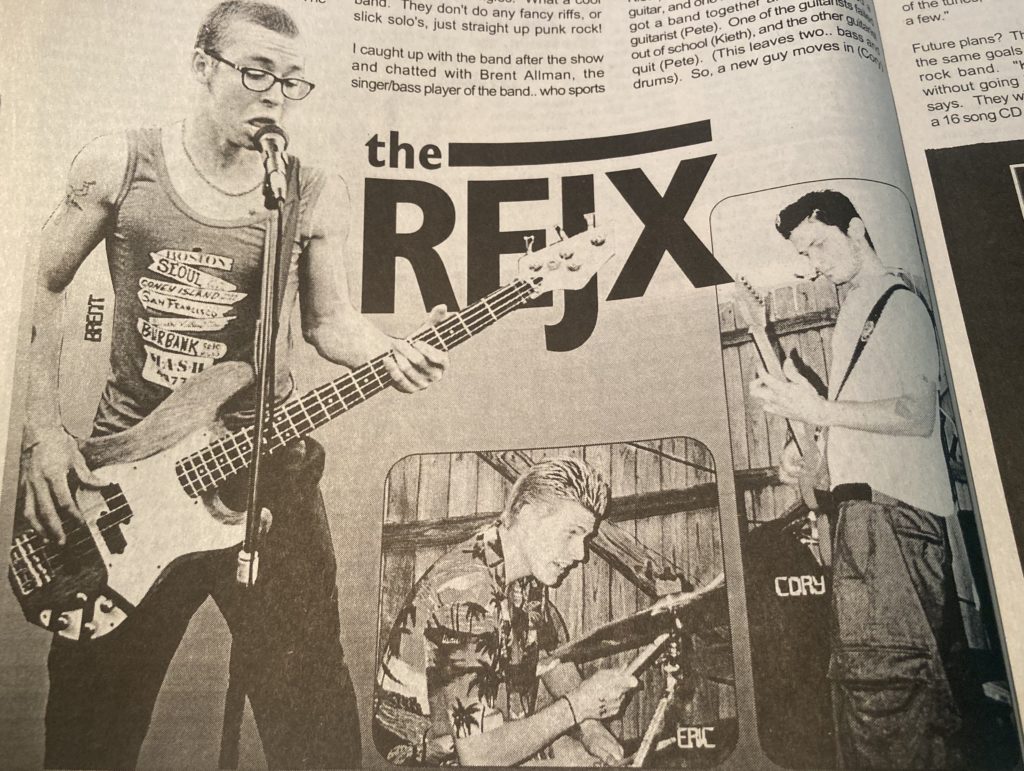 I first caught this band at a show in Toledo. Summer Fest. It was actually a pretty cool setting. The concert took place on the back patio of a Coney Island in downtown Toledo, Ohio. With about 5 or 6 bands scheduled, the show started early. I caught the last half of Bounder, a band from Kalamazoo, Michigan. Next was Phonix from Toledo. Finally, the band I had been waiting to see, The ReJX. I'd never heard them play before this but have heard of them. They seem to be a legend here in Toledo and draw a crowd whenever they travel out here to play.
With the last tweek of an amplifier, the ReJX were on. They started jamming and it seemed everyone knew the lyrics to the songs but me. They have quite the following. Their sound; sort of old school punk rock. Some of their songs sounded really heavy, while others sort of Ramonish. I couldn't help but think of The Nobodys or The Automatics as I listened. They jammed a really good set and at the end, bass player/singer, Brent and guitarist Cory switched instruments. They ripped into the best cover of "Manic Monday" by the Bangles that I had ever heard. They don't do any fancy riffs or slick solos, just straight up punk rock.
I caught up with the band after the show and chatted with Brent Allman, who sports a killer ThunderCats tattoo on his forearm. I was hinting around about wanting to get a CD from them, little did I knw they hadn't even recorded yet. "We did record a tape on a 4 track with about 8 songs, but it neer got anywhere" Brent said. "We would like to record a 16 song CD someday." 
The ReJX have quite the influences. "Guns-n-Roses are probably the biggest influence for us" Brent states. "That band is dope." The other members are into emo (Cory) and metal (Eric). "I just listen to anything good," Brent said.
The beginnings of the ReJX is a story in itself. 3 guys lived together in Pittsburgh where they go to school (Brent, Eric and Keith). One played drums, one played guitar and the other learned to play bass. They got a band together and later added a guitarist (Pete). One of the guitarist failed out of school (Keith) and hte other guitarist quit (Pete). So a new guy moves in (Cory) and learns to play guitar. Thus forms The ReJX. Brent Allman on bass/vocals, Cory Mohr on guitar/back up vocals and Eric Generic on drums.
Dork Rock. The answer they gave me when I asked what they classified their music as. "We're thinking of calling our first album Retainer Club," Brent said. "Our name (ReJX) fits our dork rock image. We didn't put much thought into it, it just came to us."
As far as the "tune writer" of the band, Brent takes most of the credit. "I've written most of the tunes but Eric's written a few."
Future plans? The ReJX have the same goals as any punk rock band. "Keep playing without going broke!" Brent said. They will be putting out a CD in the near future under the label UPRISING! Productions (I dug this band so much I couldn't let them slip by). Also look for a 7" split with a local (Pittsburgh) gutter punk band.
On a final note, Brent tells me about a funny show experience. "We had this show set up at a pretty big place in Pittsburgh. We invited Phonix from Toledo to play the show. When we arrived, the only other person that showed up was the bartender!" Brent said. "The only thing cool we got out of the whole night were meatball subs!" 
The story of 300 Orchard Place (ReJX Home)