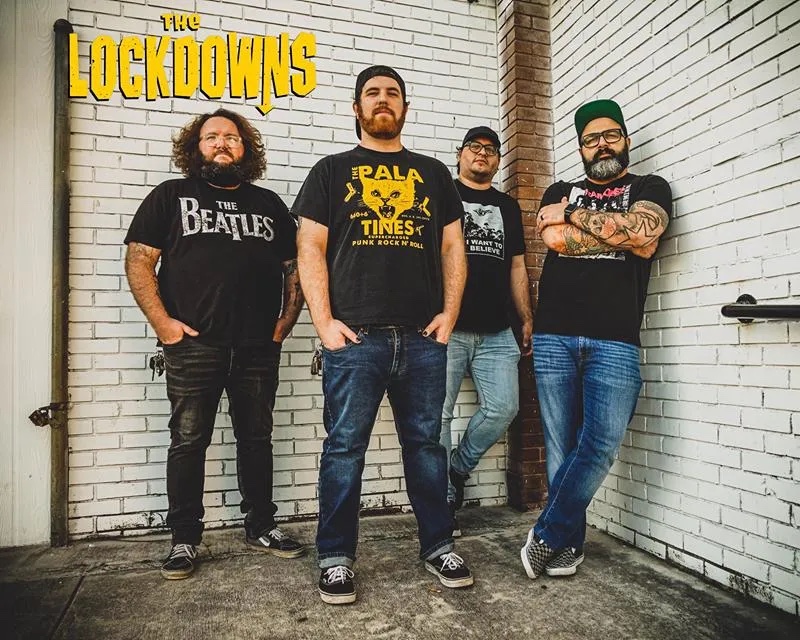 From the depths of a global pandemic emerged one of the best punk rock bands I've heard in a long time.
Hailing from Houston, Texas, The Lockdowns formed in the spring of 2020. While bars, restaurants and music venues were shuttered, this foursome got to work practicing and writing songs for a new EP.
"We actually met at a Teenage Bottlerocket/MXPX show in San Antonio, TX (Feb. 2020)," Alex said. Jimmy recognized Alex as the singer for the band Action Frank. The two ended up hanging out that evening and discussed forming a band.
"Our first practice was the week after the Covid lockdowns happened," Jimmy said. "As soon as they locked everything down we questioned whether we could even practice." "We were showing up to our practice space with masks on."
The Lockdowns have a style of their own. Self-described as "Ramones-core," they are far from a basic three-chord punk group. The band is made up of talented musicians each with years of experience in the music industry. Alex (bass/vocals), Jimmy (guitar/vocals), Herbert (guitar) and Pedro (drums).
Members of the Lockdowns have a vast history in punk rock. Alex currently plays in the band Action Frank. The Houston, TX trio did a tour in 2016 and put out a full length album in 2013. Alex also played in the hispanic ska band Fuska.
Jimmy currently plays drums in a band called Beerdo. Jimmy describes the band as "Dead Kennedys meet Blue Oyster Cult." "It's a lot of surfy punk rock vibes with classic rock guitar riffs over it."
Before settling in the U.S., Herbert played in an El Salvador band called Veni Vidi Vici and has recently played in Ramones style punk rock cover bands.
Pedro still plays in the Brazilian pop punk band Carbona. "I'm still part of the band even though we only record right now." "We've been together for 22 years and we have like 13 albums out." "We toured the states in 1998 with Chixdiggit, Marky Ramone, Grovie Ghoulies and others."
The new EP, simply titled "The Lockdowns" was released in January, 2021. The 6 song album is full of energizing, love-sick, pop punk rock sing-along hits. "We actually recorded everything here in the U.S. and then sent it all down to Hill Valley Studio in Brazil where it was put together by Producer/Sound Engineer Davi Pacote," Jimmy said. "Davi is like the punk rock guy in Brazil," Pedro noted. "All of the punk bands record with him."
When asked about how the songs came together for the EP, Alex pointed out that it was a group effort. "Jimmy and I decided that I would write half and he would write the other half." "We took the songs into the practice room and each band member added to it where they become not just my song or Jimmy's song, it becomes our song." "I've been in bands where one guy writes the songs and the rest of the band learns them," Alex explained. "It doesn't work like that in the Lockdowns and I think that is part of why it's successful."
Members of the Lockdowns have a wide array of musical influences. Some of their favorites include Break Anchor, Elway, Hot Mulligan, Chixdigget, Lawrence Arms, Alkaline Trio, Dillinger Four, The Clash, MC5, Teenage Bottlerocket and Less Than Jake.
One of the biggest influences on the band are The Ramones. "I was lucky enough to have seen them a couple of times," Pedro said. "The first time I saw them was November 14, 1994 during the Acid Chaos tour with Sepultura." "The Ramones in South America are kind of like gods, especially in Argentina and Chile." "They play for like 50,000 people, selling out entire football stadiums."
When asked about doing a tour in the future, Jimmy explained that it would depend on the situation. "For us, doing a large-scale tour, it would have to be a bigger band looking for a supporting act so at least we could make money." "Pedro's got a baby on the way, Herbert's got a baby, I have two kids and Alex's job is really demanding," Jimmy explained. "At least for me, the starving touring band, two months on the road, living off $3 a day is not that appealing for me at this point in my life."
"I can see us doing little weekend runs," Alex noted. "Texas is so big you can play cities 6 hours apart and not even cross state lines." "We could do week runs to Florida and shit like that."
With a full length album already in the works, I asked the band what else we can expect to see from them in the future. "The skies are the limit but the momentum has already started" Alex said. "We're going to keep putting out records, playing shows and see what happens. "We're getting really good feedback so far, people like the music." "I think we all know we have something good going here so we're going to see what happens."
Check out the new EP and follow the band on Facebook and Instagram for updates.