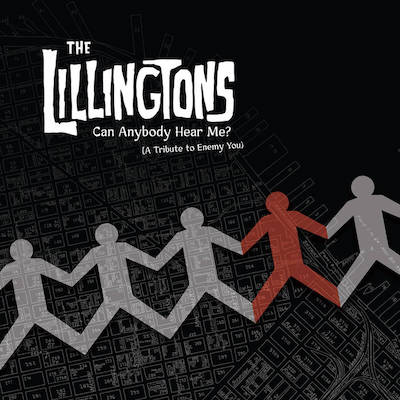 03.29.21 – The Lillingtons have announced a new album titled "Can Anybody Hear Me? (A Tribute to Enemy You)"
The album will be released on Friday, April 30, 2021. I've listed the title tracks below with a link to the Enemy You song for reference. Also, check out the interview UPRISING! did with David Jones of Enemy You back in 2000 and an interview with The Lillingtons done on their Panic Button tour in the summer of 1999.

Automaton – (Enemy You – Automaton)
72 Hours – (Enemy You – 72 Hours)
Awake (Enemy You – Awake)
The Only One (Enemy You – The Only One)
Hopes and Dreams (Enemy You – Hopes and Dreams)
Untitled Yeebrah
More from the Lillingtons Bandcamp page:
The Lillingtons and Enemy You have a history that goes back a quarter of a century. You won't find that in today's
punk scene where there's so much competition and grubbing for clout on social media, but these bands are binary stars from a bygone era. The two respective singers started out as pen pals (yes, using actual letters and stamps!) and went on to be songwriting contemporaries and labelmates on Lookout and Red Scare. In the world of melodic punk, The Lillingtons and Enemy You are the gold standard. Then David Jones (singer of Enemy You) suddenly passed away in 2015 and bands have been paying him tribute ever since. On "Can Anybody Hear Me" we have The Lillingtons offering up a few EY cover songs and it feels like a family reunion. The first pressing of the vinyl will come on "Jones Hoodie Red" and a portion of proceeds will be donated towards to National Suicide Prevention Lifeline.